Ventilation Skylight
A ventilation skylight is a type of skylight that can be opened to allow fresh air in whenever desired. We have a wide range available for delivery across the UK, including both manually operated and electric motor models. Please feel free to browse our selection at your leisure and to contact us if you need any help. In the meantime, you can find more information on choosing the right skylight below.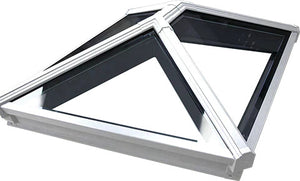 Choosing the Right Type of Ventilation Rooflight for Your Property
When you are deciding which particular ventilation skylight, rooflight or roof lantern to buy, try to focus on the factors that are most important to you. These may include the following:

Cost – A ventilation roof lantern, rooflight or skylight that is fitted with an electric opening mechanism will be more expensive than one that is fitted with a manually operated opening mechanism. With this in mind, you should consider how often and how quickly you are likely to be opening and closing your skylights before choosing an option. Tinted glazing and glazing with a special easy-clean coating will also add to the cost of your new ventilation skylight but are desirable options that you may wish to consider.

Ease of Use – The main concern when considering ease of use is again the opening mechanism. If you are planning to install a number of new skylights and you would like to be able to open and close them all within a few seconds, electric opening models will be the best option. On the other hand, if you only plan to open them occasionally, manual opening models could be the most cost-effective choice.

Size & Style – The most appropriate size and style of ventilation rooflight will depend on the size and style of your property. We have models that are perfect for larger, period properties as well as many that are ideal for smaller, more contemporary homes.