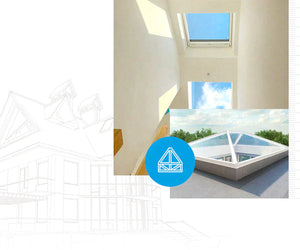 The many benefits of an access hatch rooflight
Installing an access hatch rooflight can be a great idea for many reasons. Not only does this type of roof access system provide access to the roof from within your building, but it also offers increased safety and security. An access hatch rooflight supports emergency access in hazardous conditions, reducing the risk of a serious accident or injury on the roof for both workers and occupants. Additionally, access hatch rooflights are designed to have minimal impact on both the aesthetic features and noise levels of your building, ensuring that there is no disruption to its natural environment.
Frequently Asked Questions
Manual or Electric Opening?
When considering a rooflight for your home or business, manual opening or electric opening rooflights both offer very distinct benefits. Manual opening rooflights are often the more cost affection option, since manual opening mechanisms require less material and fewer components than electric opening options. On the other hand, electric opening rooflights offer convenience when it comes to access to the outdoors - all you have to do is press a button and your manual opening roofless will open smoothly with minimal effort. Both manual and electric options also provide excellent levels of light transmission and insulation, making them great additions to any space. Ultimately, manual or electric rooflights can be great solutions depending on your needs and preferences - so choose whichever one is right for you!