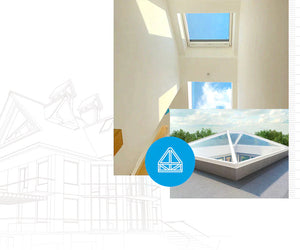 Pitched Skylight Benefits
There are numerous benefits to investing in a skylight. For example:

● A skylight can help you save on energy costs by providing natural light.
● Skylights can improve the look of your home, and they can add value if you ever decide to sell.
● They can help you create a more comfortable living space by reducing the need for artificial lighting.
● And depending on the style you buy, some skylights can also help to improve the air quality in your home by providing ventilation.

So if you're looking for a way to add natural light to your home, a skylight could be the perfect solution.

Frequently Asked Questions
Why Choose Rooflights & Roof Lanterns?
There are many reasons to choose Rooflights & Roof Lanterns for your skylight needs. For one, we've been providing superior skylights for over 25 years. We're experts in the field, and we're passionate about helping our customers get the most out of their space. In addition, we offer a wide range of skylights to suit any need. We'll work with you to make sure you get exactly what you want without compromise.