Find Your New Conservatory Skylight, Rooflight or Roof Lantern
If you have decided on a solid roof for your conservatory, to make it easier to control the indoor temperature throughout the year, a conservatory skylight may well already be at the top of your shopping list. With one or more well-designed skylights or roof lanterns, you can create a space that is filled with natural light yet easy to keep cool in the summer and warm in the winter months. At RLRL, we sell a wide range of skylights and roof lanterns that are suitable for conservatories, all of which are manufactured in the UK and can be delivered to any part of the country. Browse our range now and don't hesitate to call or email if you need any help.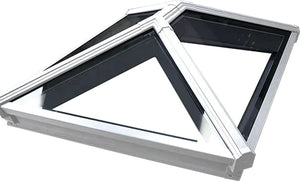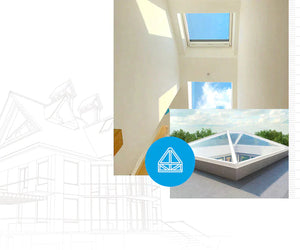 Create the Perfect Space with a Conservatory Rooflight, Roof Lantern or Skylight
When conservatories first became popular they were constructed almost entirely from glass, including the roof. Whilst a traditional all-glass design is a great choice for a conservatory in which you intend to grow exotic plants, it's not such a good idea if you want to use your conservatory as extra living space. All-glass structures are very difficult to keep cool in the summer and expensive to heat in the winter. Many people who originally opted for a glass roof in their conservatory have since replaced it with a solid roof but this reduces the amount of available natural light quite considerably. A solid roof with skylights, on the other hand, ensures plenty of natural light still penetrates the interior space without causing any heating or cooling issues.
Frequently Asked Questions
What is the difference between a conservatory skylight, a rooflight, and a roof lantern?
 A conservatory skylight, a rooflight, and a roof lantern are all designed to bring natural light into your conservatory or living space. However, they differ in terms of their design and functionality. A conservatory skylight is a single, discreet window that can be installed on the roof of your conservatory. It allows natural light to enter the space without compromising on heating or cooling efficiency. A rooflight, on the other hand, is a larger window that can be installed on various types of roofs, including conservatories. It provides a larger opening for natural light to enter and can be designed with different glazing options and opening mechanisms. A roof lantern is a more ornate structure that sits on top of a roof and features multiple glass panels. It adds a touch of elegance to your conservatory while allowing ample natural light to flood the space from above.
How long does it take to receive a conservatory skylight, rooflight, or roof lantern after ordering?
Once you place an order for a conservatory skylight, rooflight, or roof lantern on our website, it will be made to order according to your specifications. We strive to deliver your product as quickly as possible. Typically, you can expect delivery within a few working days, ensuring a prompt arrival of your new skylight or lantern.
Can I customise my conservatory skylight, rooflight, or roof lantern?
Absolutely! We offer a wide range of options to customise your conservatory skylight, rooflight, or roof lantern. You can select the type of glazing, size, and other features that suit your specific requirements. Whether you prefer a frameless flat glass rooflight, an electric opening skylight, or a stylish roof lantern, our range of products allows you to find the perfect fit for your conservatory. Simply browse our selection, choose your preferred options, and place your order on our website.