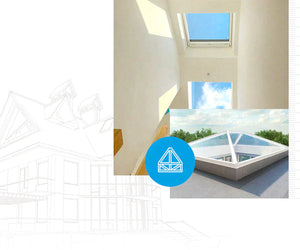 At Rooflights & Roof Lanterns, we pride ourselves on delivering top-quality products and exceptional
customer service. Our opening rooflights are made with high-quality materials and come with self-
clean/easy clean glass, making maintenance a breeze. With over 88 Trust Pilot reviews and a rating of 4.8
stars, you can trust us to provide reliable and efficient service.
Frequently Asked Questions
Why Install Opening Roof Lights?
Our electric and manual opening rooflights are perfect for adding a touch of luxury to your home. With the simple push of a button or turn of a handle, you can easily control the amount of light and ventilation in your living space. Our Fakro center pivot and pitched top hung rooflights provide a contemporary and stylish look, while our dome rooflights with manual hinges offer a more traditional design. In addition to standard rooflights, we also offer smoke vent rooflights for commercial buildings and public spaces. Our Coxdome range includes manual and electric glass options, as well as polycarbonate dome and manual variants. Our Coxdome access hatch and electrical options provide an easy way to access your roof while also providing ventilation and natural light.