Bathroom Skylights
A bathroom skylight is an excellent addition to any home, bringing more light and fresh air into one of the smallest rooms in your house. But to enjoy the full benefit of a bathroom rooflight, skylight or roof lantern, you need to make sure the unit you install is of the highest quality. That's where we come in. At Rooflights & Roof Lanterns, we specialise in top-quality, UK-made skylights, manufactured to exacting standards from the best available materials. Browse our range of bathroom rooflights, skylights and roof lanterns now and don't hesitate to contact us if you need any assistance.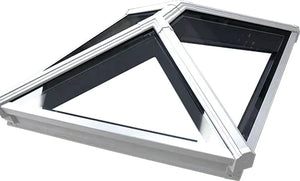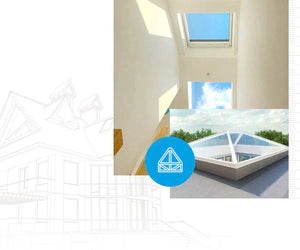 Do You Need a Bathroom Skylight?
If your main bathroom is in a dark corner of the house or perhaps doesn't even have any windows, a skylight could make a huge difference. It would allow much-needed natural light to penetrate the gloomy atmosphere, transforming your bathroom into a bright, airy space in which it is a pleasure to spend time. Even if your bathroom is already quite well illuminated, the extra natural light that a skylight provides could prove to be very welcome. Many experts believe that a bathroom rooflight is one of the best home improvement options UK homeowners can choose.
Bathroom Skylight Options to Consider
If you order a custom skylight, you may have a number of options from which to choose, including the following:
Frame Colour
Type of Glazing
Dimensions
Opening Mechanism
Self-Cleaning Coating
The type of glazing can be quite important when specifying a new bathroom roof lantern or skylight, especially if the roof can be overseen by neighbouring properties. In such cases, we recommend considering a skylight with frosted glass to protect your privacy.
Frequently Asked Questions