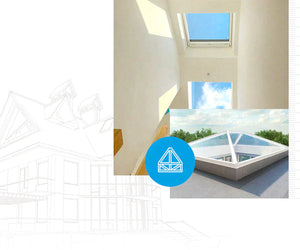 Hassle-Free Installation - Our skylights are designed with easy installation in mind, meaning you won't have to waste time and money getting them fitted. Every product we offer comes with detailed installation instructions, so you can get started—and completed—in no time.
Bespoke Products – We don't just offer off-the-shelf products; we also provide bespoke solutions tailored to your exact specifications. So you can be sure of getting the perfect skylight for your needs.
Full Warranty – All of our products come with a full warranty so you know that you're covered in the event of any faults. Some offerings come with as much as 20 years of protection, so be sure to ask us about our warranties when you order today.
Nationwide Delivery – We deliver our rooflights and skylights to all parts of the UK, so wherever you are, we can get your skylight for pitched roof to you quickly and safely.
Huge Selection – Choose from one of the largest selections available on the market. You'll be able to find the perfect skylight for your needs in no time.
Frequently Asked Questions