Roof Lanterns in York for Home or Business
Most home enhancements come with a painfully large price tag attached. Roof lanterns are different. For just a fraction of the cost of a kitchen remodel or a modest home extension you can transform the way you and your guests experience your York home. Roof lanterns in York homes provide vertical loft that increases decorative possibilities, while also turning dull, gloomy spaces into rooms that are flooded with natural light. 
Rooflights & Roof Lanterns have nearly 25 years of experience helping homeowners enhance the beauty and functionality of their homes. We create beautiful roof lanterns from the highest quality materials and install them in a way that ensures they withstand the test of time. With a roof lantern or roof lanterns from RLRL, your home will be more energy-efficient, more valuable, more liveable and have a more sophisticated air about it when viewed from the outside or experienced from the inside.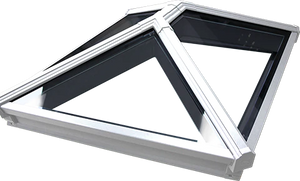 What is a Roof Lantern?
A roof lantern is installed in a flat area of the roof. It is pyramidal in shape with a raised spine and numerous large panels of double pane glass that capture light. Roof lanterns are so named because in their earliest incarnation during the Renaissance they resembled lanterns sitting atop cathedral domes. 
Over the centuries the different types of buildings adopting roof lanterns greatly expanded and eventually came to include private homes. What was a predominantly masonry feature eventually became a predominantly glass feature, and that is the type of roof lanterns we at RLRL provide our customers in York and beyond.
Unlike skylights that can be installed on virtually any roof, regardless of its angle, and which lay flush to the roof surface, roof lanterns are installed on flat portions of the roof and extend upward with a pyramidal shape. Roof lanterns are an ideal addition to your Orangerie but they are not limited to one type of space. Any room under a flat roof will benefit mightily from a roof lantern or roof lanterns, including bedrooms, living rooms and kitchens.