Our Residential Skylight, Rooflight and Roof Lantern Range
As a leading UK supplier, we have an extensive residential skylight range, consisting of high-quality, durable units that conform to all British safely regulations and standards. From frameless rooflights that are ideal for minimalist properties to ornate roof lanterns that would grace any period home in which they were installed, our range includes models suitable for all different types of residential properties. We would like to invite you to browse our collection at your leisure and to call and speak to us during business hours if you have any questions you would like us to answer.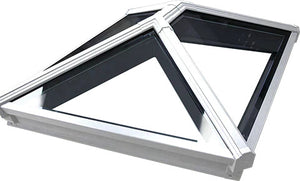 Purchase an Easy-to-Install, Quality Residential Rooflight Today
All of the skylights, rooflights and roof lanterns that you see on our website can be ordered and paid for online, at any time of day or night. Whenever you are ready, you can choose the options you would like for your new skylight, along with the dimensions, then place your order straight away. Once we receive your order, we will check it and pass it through to the relevant manufacturing facility so that work can start on your new residential skylight without delay. As the majority of units that we sell are custom-made, we ask you to check the dimensions carefully before placing your order.

Lead times vary but you can normally expect to receive your new rooflight or skylight within 3 to 10 working days after we have received your order. Although they are not difficult to fit, it is a good idea to hire a professional handyman to complete the installation work. Unless you are an experienced DIY enthusiast and you are very confident in your abilities, a professional will be able to achieve superior results.