The Difference Between Roof Windows & Skylights
Both roof windows and skylights are installed in the roof of the home but it is often hard to tell them apart. There are, however, subtle differences between the two. 
Perhaps the biggest difference is that roof windows are typically installed along the plane of the roof and are easily accessible to the homeowner who can open and close them at will. While some skylights can be opened a majority sit up and away from contact with people and so they tend to be fixed in place. That is, they can't be opened.
Recessed roof windows and recessed skylights - where the roof opening is at the end of a recessed area - are pretty common. That's because when homeowners remodel their kitchen or bath, or build out their loft, they often add a drop ceiling. Sometimes they do so for purely aesthetic reasons. Other times they do so to keep heated air down where the people are.
Whatever the thinking behind the drop ceiling though it creates distance between itself and the roof and so a well of sorts is needed if the light from the roof lights or skylights is to reach the space.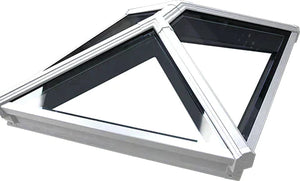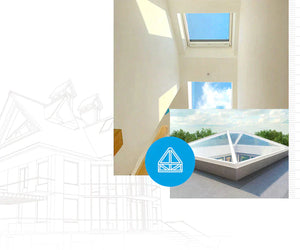 Recessed Roof Windows & Recessed Skylights by RLRL
When it comes to recessed roof windows and skylights our designers are some of the best in the business. They can create stunning recessed windows that add glamour and sophistication to the space below, while also making that space more liveable all year round. Our expert installation team make sure the window or skylight is fitted to exacting tolerances and the entire recessed assembly will stand the test of time in both the aesthetic and practical sense.