Pivot Roof Windows and Skylights by Rooflights & Roof Lanterns
There are 3 types of pivot roof windows:
Centre Pivot Windows: Centre pivot roof windows and skylights are an excellent choice if the interior space is cramped and has low ceilings. The centre pivot roof window is easy to open, easy to clean and optimizes airflow. The only downside is that they do not often make good escape windows.
High Pivot Roof Windows: Somewhere between the centre pivot window and the top hung window lies the high pivot window. This type of pivoting roof window/skylight provides even more headroom than centre pivots and, if large enough, can double as escape windows.
Top Hung Roof Windows: Top hung windows provide the largest possible opening when fully extended. They are a popular choice for loft conversions because they can effectively counteract the cramped effect created by sloped roof lines. They're also the best choice for escape windows.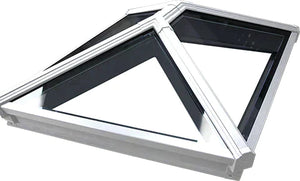 Peerless Design and Build Quality
Bespoke pivot roof windows and skylights from Rooflights & Roof Lanterns are designed to enhance the overall look of your home and built to provide effortless functionality. While they can be designed to dovetail with your home's specific architectural aesthetic, most take on a rectangular shape because this enables them to optimize the amount of light and air they let in. We use only the highest-quality materials on our pivot windows and install them to stand the test of time.