Install a Modern Skylight, Rooflight or Roof Lantern in Your Home
Our modern skylight, rooflight and roof lantern ranges consist of high-quality products that are all made here in the United Kingdom. Most models are custom-made, which means you can specify the type of glass and dimensions you would like when you order: options may include double glazing, triple glazing, easy-clean coating, tinted glazing and privacy glass. You can order and pay for everything you need on our website in just a few minutes and we are always available to provide personal assistance if required. We recommend taking the time to browse our full range before you decide which model to order as there are many different styles from which to choose.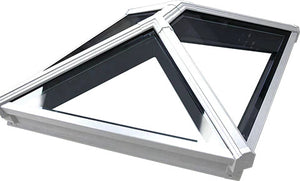 Modern Skylight Options to Consider
When choosing a new skylight, rooflight or roof lantern, there are various options you should consider:

Size – The dimensions of your new modern rooflight are, of course, extremely important. The best size for your home will depend on the amount of natural light you want to allow in, any concerns you may have about heat and the budget you have available.
Type of Glass – For maximum light penetration, clear glass is the best choice. However, if you would like to create a more subdued atmosphere in any particular room, tinted glazing is an option you may wish to consider.
Frame Colour – Your choice of frame colour will depend mainly on the exterior and interior colour schemes you have already chosen for your home. Most of our rooflights come with neutral-coloured frames that will blend in seamlessly with all types of property exteriors.
Style – From minimalistic frameless flat glass rooflights to ornate roof lanterns, you will find a wide variety of different styles on our website. When considering styles, focus on those that will complement the exterior of your property: some types of modern roof lantern or rooflight are perfect for contemporary homes whilst others have been designed with older properties in mind.