Attic Skylight
Whatever type of loft conversion you are considering, a high-quality loft skylight should be high on your list of desirable features when the plans are first drafted. One or more skylights will allow more natural light into your new loft space, helping to transform it into a welcoming and spacious feeling room. You will find a wide selection of skylights, rooflights and roof lanterns on our website, all of which you can order online right now. If you have any questions about our products and services, please do not hesitate to get in touch with us by phone or by email. We will be more than happy to answer all your questions and to help you choose a new skylight that is perfect for your needs.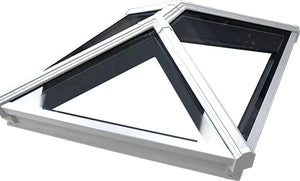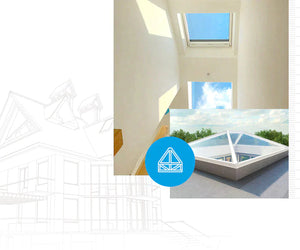 Options to Consider When Buying a New Loft Rooflight, Skylight or Roof Lantern
If you are looking for one or more skylights to install in a new loft conversion, there are a number of options you need to consider before making your final choice:
Quantity and Size – Depending on the size of your loft conversion, you may need a number of individual skylights. On the other hand, perhaps a single unit may suffice. You need to think about the available roof space and the amount of light you would like to allow into the loft when making your choices with regard to size and quantity.
Type of Glazing – If you order a custom loft roof lantern or skylight from us, you can choose the type of glazing you prefer. The options may include tinted, frosted, clear, double or triple glazing, and glazing with an easy-clean coating, depending on the model you are interested in.
Method of Opening – If you decide to install skylights that are designed to open and close, you can choose whether to have a manual or electric opening mechanism. If you choose an electric mechanism, you may then have the option of a wall switch or a remote control.