Aluminium Skylight, Rooflight and Roof Lantern
A durable, attractive finish, robust construction and slimmer profile are just a few of the many reasons that some homeowners prefer an aluminium skylight over a uPVC one. If you are shopping for a new aluminium rooflight, skylight or roof lantern, you will definitely want to check out the range we have to offer before making a final decision. As one of the most well-established suppliers of skylights in the UK, we have a great selection of high-quality units, many of which can be made to order according to your specifications.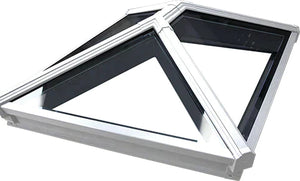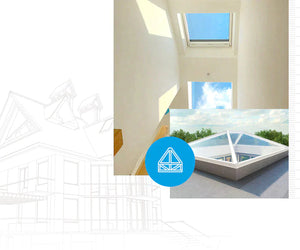 Buying an Aluminium Skylight from Rooflights & Roof Lanterns
You will find a variety of different units on our website, most of which can be made to your preferred dimensions. You can also choose the type of glazing and the type of finish you would like, and whether to have a manual or motor-driven mechanism when ordering skylights that open and close. Once you have decided exactly what you want, you can place your order on our website straight away. We offer excellent terms to both private and trade customers, and we deliver to all parts of the United Kingdom.
Delivering Your New Aluminium Rooflight, Skylight or Roof Lantern
Once we receive your order, it will be passed through to manufacturing. With this in mind, please make sure you choose the correct dimensions as they cannot be changed once manufacturing has started. Your order will be completed and delivered within a few working days: please see individual product pages for more accurate lead time estimates.